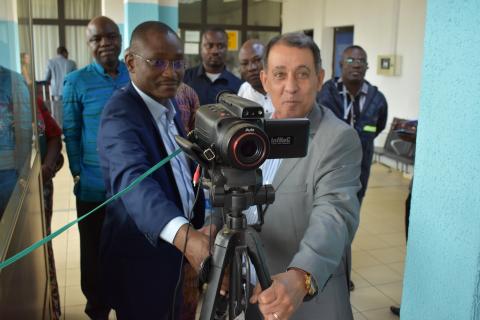 The West African Health Organization (WAHO) Donates a Thermal Camera and a Mobile Laboratory to Burkina Faso
Bobo-Dioulasso, 29 July 2019 – The West African Health Organization (WAHO) Donates to Burkina Faso
The West African Health Organization (WAHO) on Friday 26 July 2019, made two significant donations to the Burkina Faso authorities.
The first donation is a High Resolution Thermal Camera for Screening at the Ouagadougou Airport.
In making the donation, Dr Carlos Brito, Director of Public Health and Research at WAHO, who represented the Director General, Professor Stanley Okolo, said: "The donation is part of WAHO's support to the prevention and fight against epidemics and it is also to reassure the traveling public and the general public of necessary measures being put in place by individual countries with support from WAHO".
The Friday donation was the formal handover of the thermal camera to the Ministry of Health who in turn handed it over to the Ouagadougou Airport Authorities. The health personnel assigned to the Airport had all gone through a two-week training on the use of the thermal camera.
The second donation was a mobile laboratory to the Burkina Faso Emergency Operations Centre (EOC). The mobile laboratory is an off-road vehicle equipped with laboratory equipment (laminar flow hood, centrifuge, refrigerator, fluorescence microscope) for microbiological surveillance of diseases likely to cause an epidemic.
The Secretary General of the Ministry of Health of Burkina Faso, who received the donation on behalf of the Minister, expressed great appreciation to WAHO for the donation which he said has come at the right time and would go a long way to help them deal with the outbreak of recurrent epidemics such as meningitis.
The donations are part of earlier commitments made by WAHO to support ECOWAS member countries in their response to epidemics and also it is in line with its mandate to protect the health of the people in the ECOWAS region.
END