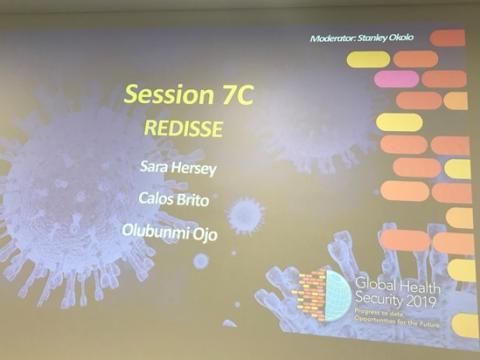 Participation of WAHO in the Panel Session on Regional Financing For Health Security: The Regional Disease Surveillance Systems Enhancement Program (REDISSE)
Sydney, June 20, 2019 – The Director General of the West African Health Organization (WAHO), Prof Stanley OKOLO, on June 20, 2019, moderated a panel session on regional financing for health security with focus on the Regional Disease Surveillance Systems Enhancement Program (REDISSE).
The panel discussion was part of the Global Health Security International Conference going on in Sydney, Australia.
Panelists were Mrs. Sara HERSEY from the World Bank, Dr Carlos BRITO from WAHO and Mrs. Olubunmi OJO from the Nigeria Centre for Disease Control (NCDC).
The first presentation was made by the World Bank and highlighted economic arguments for investment in health security and the rationale for the regional, multi-sector design which characterizes the REDISSE Program. The second presentation from WAHO expanded on the regional and One Health aspects of the Program and highlighted successes and challenges in promoting inter-country collaboration, resource sharing and collective action in West Africa, while the final presentation from NCDC focused on the practical implications of implementing a regional, multi-sector health security investment at country level, including alignment of the REDISSE financing with the National Action Plan for Health Security and the approaches adopted to coordinate implementation across the sectors and ministries.
The discussion that followed the presentation turned around the need of better synergy and avoidance of duplication of efforts across countries, the low level of disbursement due to several country specific factors, in addition to the low level mastery of the World Bank fiduciary procedures, the need of strengthening activities coordination, increase support to countries and promoting practices sharing and lessons learnt across the region.