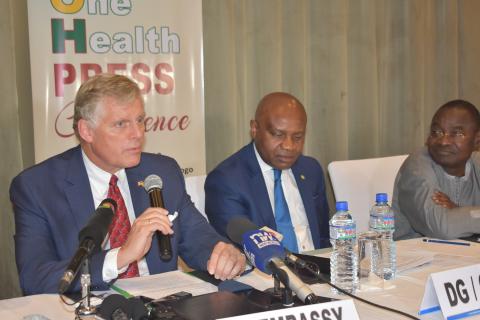 WAHO Holds a High Level Press Conference on One Health in ECOWAS Region
On 1st November 2019, the Director General of the West African Health Organization (WAHO), Prof Stanley Okolo, convened a High Level Press conference on One Health in ECOWAS region at Hotel 2 Février, Lomé, Togo.
The presser was to mark the fourth annual One Health Day, which fell on 3 November 2019, a global campaign that celebrates and brings attention to the need for a One Health approach to address shared health threats at the human-animal-environment interface.
It was specifically meant to:
Raise public awareness on progress in One Health multisectoral collaboration in the countries of the region for better health security and the achievement of the SDGs;
Share the main conclusions of the One Health technical meeting held from 28-30 October 2019 in Lomé;
Support the strategic advocacy for the implementation of OH agenda and the activities marking the global celebration of the fourth International One Health Day.
WAHO serves as the Executive Secretariat of the "One Health" platform in the ECOWAS region.
Main speakers were:
The Togolese Minister of Health and Public Hygiene;
The Togolese Minister of Environment;
The Secretary General of the Ministry of Agriculture of Togo;
His Excellency the Ambassador of the United States of America in Togo; and
The Director General of WAHO.